An NDI|HX-ready HD and UltraHD PTZ camera with 30x zoom, 3G-SDI, HDMI, and IP streaming.
Delivers UHD at 30fps and 1080P at 60fps
Supports Newtek's NDI|HX* for video networking and low latency IP production
Powerful 30x zoom lens, with 68 degrees horizontal field of view at its widest setting
Easy installation: delivers video output via Ethernet, HDMI, and 3G-SDI simultaneously
VC-A61PN supports NDI®, the popular video networking format. Once connected to the local area network, it is available to the production desk as an NDI® video source, controlled by software or a dedicated hardware device. The bandwidth requirement for an NDI®|HX HD 30fps video stream with audio and control data is minimal, between 8 and 20 Mb/s. Using this highly efficient format, multiple cameras can be used to distribute high-quality, low latency video without overwhelming the IP network.
*NDI® is a registered trademark of Vizrt Group.
With a choice of 4K or 1080p output, the Lumens VC-A61PN is ideal for all your production and AV requirements. The CMOS sensor is partnered with a high brightness lens which enables the camera to excel in virtually every lighting condition. It makes the VC-A61PN a great PTZ, whether installed in a studio, theater, conference hall or sports center.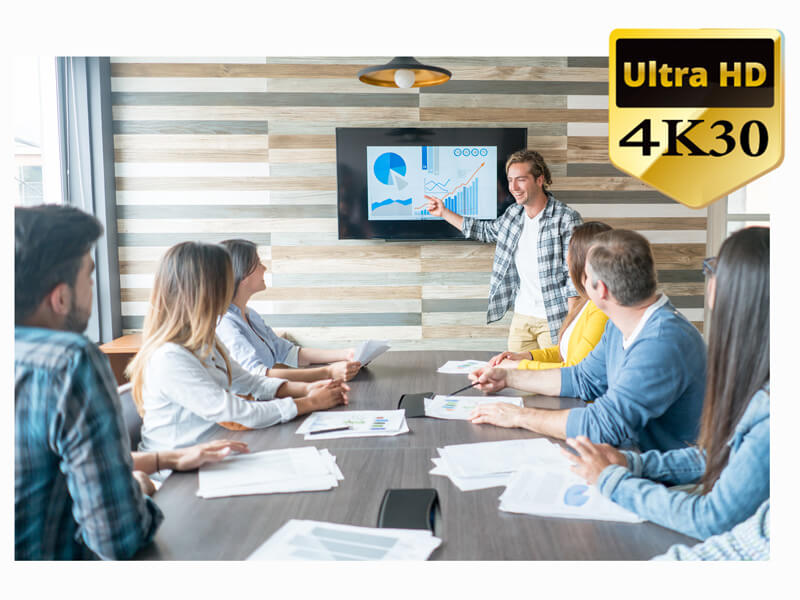 The 30x lens allows users to zoom in close from the back of a venue or shoot wide to capture a full conference panel thanks to its 68 degree horizontal viewing angle. For extreme close shots, a digital zoom can be deployed, while 3D noise reduction maintains clear pictures and excellent results. 
Video Workflow Flexibility
Featuring HDMI, 3G-SDI, and Ethernet outputs, the VC-A61PN can be integrated with almost any AV, broadcast, or IP workflow. While all models deliver simultaneous H.264 and HEVC streaming, the inclusion of NDI®|HX adds support for fast integration with NDI® infrastructures. Such a broad range of video outputs means that the camera is ready to fulfill a wide variety of roles – as a PTZ camera source for lecture capture, live event production, or video streaming direct to YouTube or Facebook.
AV Integration and Control
Lumens VC-A61PN supports both PoE (Power over Ethernet) and a 12v DC input. It also features dedicated RS-232 in-out ports, RS-422 and Ethernet-based control protocol support (including Crestron, Extron, Visca, Pelco D, NDI and Onvif). This gives the camera an unparalleled level of flexibility: whatever the video workflow, whatever the AV integration, VC-A61PN is ready to take the complexity out of camera installation and management.
2160p: 29.97 / 25
1080p: 59.94 / 50 / 29.97 / 25
720p: 59.94 / 50
1080i: 59.94 / 50
0.1 lux (F1.6, 50IRE, 30fps)
NDI®|HX / RTSP / RTMP / RTMPS / MPEG-TS / SRT
HDMI Output: 2160p29.97
3G-SDI Output: 1080p59.94
NDI:
H.264 4K 29.97fps
H.264 640×360 29.97fps
or
RTSP:
HEVC 4K 29.97fps
H.264 1080P 59.94fps
H.264 640×360 29.97fps
RS-232 / RS-422 / Ethernet / Remote
VISCA / VISCAIP / PELCO D / NDI / ONVIF
6.9″ x 7.5″ x 7.3″
(174 x 190 x 187 mm)