Advanced UltraHD pan tilt zoom camera with 12G-SDI, IP, and HDMI outputs.   
4K UHD 60fps and 1080P 60fps output
30x optical zoom, 63° maximum horizontal field of view
12G-SDI, HDMI, Ethernet, and USB 3.0 video output
Triple stream HEVC/H.264 IP video output
Supports RTSP / RTMP / RTMPS / MPEG-TS / SRT streaming protocols
Maximum horizontal/vertical speed of rotation: 300° /sec
Supports Power Over Ethernet (PoE++) 
Smart AF: AI-enabled autofocus system
FreeD protocol for live VR/AR production
Broadcast Quality UltraHD Video
Paired with a low distortion professional zoom lens, the camera's large (1/1.8″) CMOS sensor produces great 4K and HD results. Operating in lighting conditions down to 0.05 lux, the smooth video output makes it an ideal camera for producing sports, theatre, and live events. Its excellent color reproduction and 12G-SDI output mean it's a great choice for productions where image quality is of the highest importance
AV and Broadcast Integration
The VC-A71P integrates with a variety of professional AV, IT, and broadcast workflows. The camera is ready for SDI and HDMI video workflows, IP networks, direct video streaming, and video conferencing via USB 3.0. Each interface will output video simultaneously, creating a flexible installation, monitoring, switching, and distribution options. 
Live VR/AR Video Production
VC-A71P supports the popular FreeD protocol which outputs the camera's positional data over IP in real-time. This enables users to work with state-of-the-art Virtual Reality and Augmented Reality sets without the need for additional sensors.
These are sourced from some of the trusted and certified vendors of the industry. The offered products are manufactured using modern machinery, latest technology and optimum grade raw material at vendors' end.
When the presenter moves inside a user-defined Partition Area, the camera switches to a preset angle and zoom.
Face Recognition Autofocus System
Equipped with Lumens' Smart AF algorithm, VC-A71P can intelligently identify human faces and automatically detect the eyes and mouth. This enables the camera to keep the subject in sharp focus all the time.
Semi-Autonomous Production
Each camera supports up-to 256 presets, allowing users to switch angles and zoom positions, and engage tracking movements at the touch of a button. The advanced Auto Focus, Auto Exposure and Auto White Balance algorithms automatically deliver consistent images while zooming and panning, or under changing lighting conditions. Together, these advanced functions allow a single operator to manage multiple cameras and to produce multi-camera productions without the need for a large crew.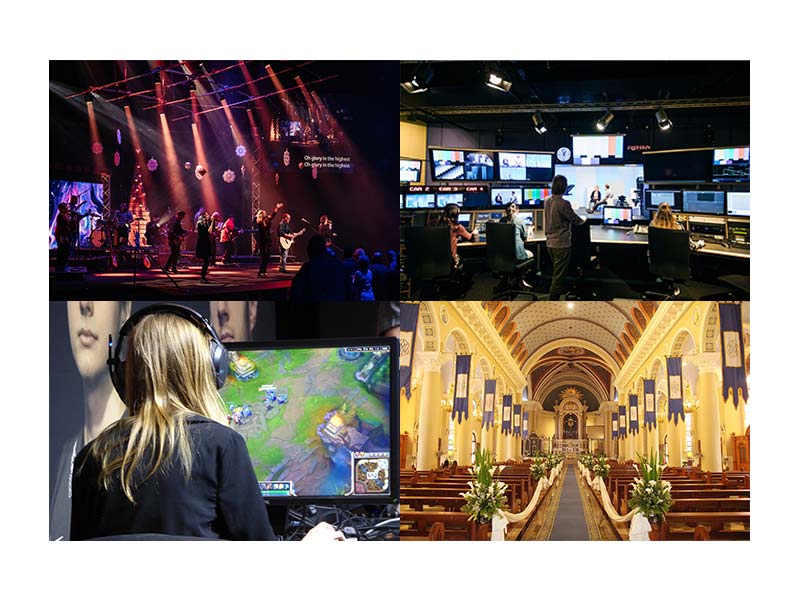 •    Broadcast and Video Studios: built-in 12G-SDI, IP control and tally lights make VC-A71P and ideal 4K studio camera.

•    Live Events and Sports: Shooting UltraHD at 60p delivers smooth, high-quality images, with the zoom lens able to shoot wide and deliver extreme close-ups. 

•    Next Generation AV Installation: featuring major control protocols and with support for multiple power and video output options, VC-A71P can integrate into the corporate, house of worship and education installations to deliver higher quality results.
2160p: 59.94 / 50 / 29.97 / 25
1080p: 59.94 / 50 / 29.97 / 25
1080i: 59.94 / 50
720p: 59.94 / 50 / 29.97 / 25
Video Output (HD) Interface
12G-SDI / HDMI 2.0 / Ethernet / USB 3.0
63° (H) 35.4° (V) 72.3° (D)
0.05 lux (F1.6, 50IRE, 30fps)
HEVC 4K 59.94fps
H.264 1080p 59.94fps
H.264 640×360 29.97fps
H.264 4K30fps
MJPEG 1080p30
RTSP / RTMP / RTMPS / MPEG-TS / SRT
HEVC 4K 59.94fps
H.264 1080p 59.94fps
H.264 640×360 29.97fps
Line In / MIC In, Phone Jack 3.5mm x1
HEVC 4K 59.94fps
H.264 1080p 59.94fps
H.264 640×360 29.97fps
Line In / MIC In, Phone Jack 3.5mm x1
Ethernet / 12G-SDI / HDMI 2.0 
RS-232 / RS-422 / Ethernet / USB 3.0/ Remote
VISCA / VISCAIP / PELCO D / ONVIF
9.2″ x 7.4″ x 7.4″
(232 x 188 x 189 mm)