Auto-framing UltraHD webcam for huddle and meeting rooms
Zoom Certified USB camera 
Clear images with 4K sensor and WDR 
Effectively capture human voice up to 5 meters 
Hands-free auto framing to keep all participants in view 
Easily control the camera by a mini remote controller or software 
Compatible with leading UC platforms and wireless presentation tools
*Also sold as VC-B11UT for some countries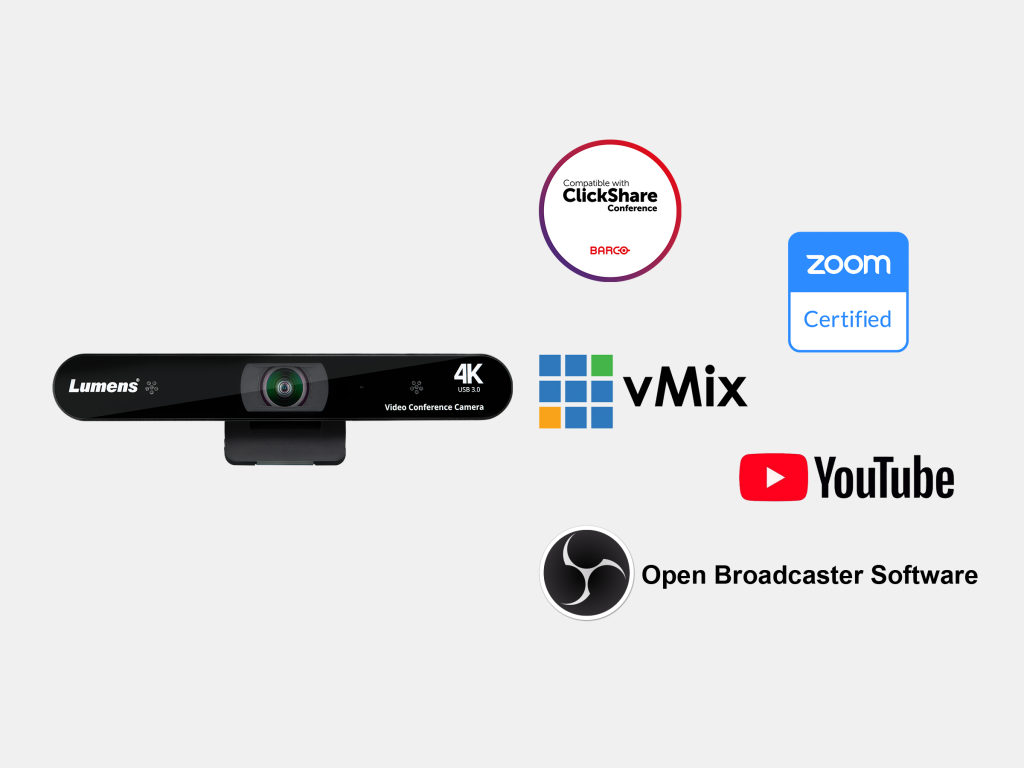 Certified by Zoom and compliant with Barco ClickShare Conference, the VC-B11U is compliant with all major video conferencing applications and unified collaboration platforms. It can even be used as a live video source within live production and streaming tools such as YouTube Live, vMix, and OBS Broadcast.
The Lumens VC-B11U is a professional grade USB camera designed for small to medium sized meeting rooms. Equipped with a 4K sensor, advanced image processing and reliable auto-focus, the camera outputs perfectly exposed video images enabling small groups to communicate effectively with remote teams. Featuring WDR (wide dynamic range) technology, the unit ensures that each participant is clearly visible on screen, even in difficult lighting conditions.
The VC-B11U's auto-framing function immediately detects participants in a meeting. It dynamically adjusts its frame of angle to include all delegates, re-framing the view if participants join or leave during the meeting. There's no need for a remote controller to set the field of view – it's all automatically taken care of by the camera. 
The camera's dual microphones are designed to pick up voices from up to 5 meters distance. This makes the VC-B11U suitable for sharing round table meetings or discussions in conference breakout rooms.
Video Output (HD) Interface
USB 3.0 Type C
(USB 2.0 Compatible)
Auto Framing Maximum Distance
Tripod-Ready Universal Clip
Without Clip:
1.2"x 8.3"x 1.4"(30 x 210 x 35 mm)
With Clip:
1.9"x 8.3"x 2.9"(47.4 x 210 x 73.6 mm )