4K AI Auto-Tracking Camera
4K 60fps
12x Optical Zoom HFOV 81°
AI-based Human Detection
HDMI, Ethernet, 3G-SDI, USB output
Featuring an 81° horizontal frame of view, VC-TR60 can shoot as wide as a webcam. Its 12x optical zoom means that it can focus tight, with the 4K sensor picking out every detail.
Tracking and Framing Modes
VC-TR60 features sophisticated auto-tracking and framing modes. Its intelligent facial recognition algorithms deliver smooth tracking for conferences, presentations, meeting rooms, classrooms, and studios.
The camera delivers video over HDMI and SDI, making it suitable for AV and video workflows. Its USB video output is compatible with most VC / UC platforms and the Ethernet port is optimized to stream video over IP.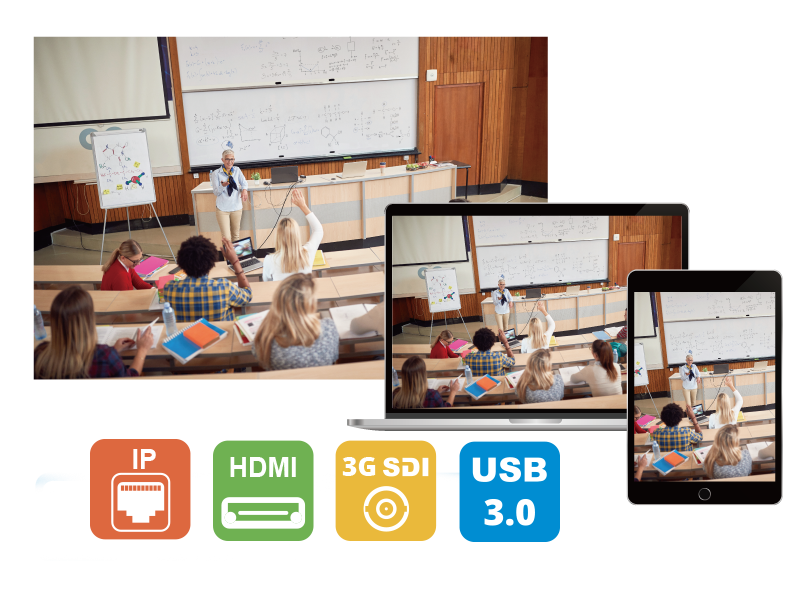 Install VC-TR60 upright or suspended from the ceiling using Lumens' dedicated mounts.
Lumens offers a 5-year warranty with all its products as standard.

*The warranty policy may be different depending on the sales region, please contact your local salesperson.
2160p : 59.94 / 50 / 29.97 / 25
1080p : 59.94 / 50 / 29.97 / 25
720p : 59.94 / 50 / 29.97 / 25
1080i : 59.94 / 50
Video Output (HD) Interface
HDMI, Ethernet, 3G-SDI, USB
1 lux (F1.8, 50IRE, 30fps)
Main : 2160p60
Second : 1080p30
H.264 / MJPEG / YUY2 / NV12
HTTP/ RTSP / RTMP / RTMPS / SRT / Dante AV-H
Ethernet / USB / HDMI / SDI
7.5″ x 7.3″ x 5.7″
(190 × 185 × 144 mm)