Advanced NDI|HX ready UltraHD pan tilt zoom camera with IP and HDMI outputs
4K UHD 60fps and 1080P 60fps output
30x optical zoom, 63° maximum horizontal field of view
Supports Newtek's NDI®|HX for video networking and low latency IP production
Built-in tally light 
Maximum horizontal/vertical speed of rotation: 300° /sec
Wide Pan/Tilt/Zoom mechanism: 
Horizontal viewing angle: -170° to +170°
Tilting angle up to 90°, and down to -30°
Supports Power Over Ethernet (PoE++) 
Ultra-low Latency Video over IP
VC-A71PN supports NDI®|HX, the popular video networking format. Once connected to the local area network, it is available to the production desk as an NDI® video source, controlled by software or a dedicated hardware device. The bandwidth requirement for an NDI®|HX UltraHD 60fps video stream with audio and control data is minimal (around 20 Mb/s). Using this highly efficient format, multiple 4K cameras can distribute high-quality, low latency video without overwhelming the IP network.
Video Workflow Flexibility
Featuring HDMI and Ethernet outputs, the VC-A71PN can be integrated with almost any AV, broadcast, or IP workflow. While all models deliver simultaneous H.264 and HEVC streaming, the inclusion of NDI®|HX adds support for fast integration with NDI® infrastructures. Such a wide range of video outputs means that the camera is ready to fulfill a wide variety of roles – as a PTZ camera source for lecture capture and live event production.
Broadcast Quality UltraHD Video
Paired with a low distortion professional zoom lens, the camera's large (1/1.8″) CMOS sensor produces great 4K and HD results. Operating in lighting conditions, the smooth video output makes it an ideal camera for producing sports, theaters, and live events. Its excellent color reproduction means it's a great choice for productions where image quality is of the highest importance.
Lumens' PTZ cameras offer users a high degree of versatility. The VC-A71P can be powered by a dedicated 12v DC adapter, or via POE++, giving network managers the option to install devices in any position. Multiple control protocols (Visca, Pelco, and NDI) and interfaces (RS-232, RS-422, and Ethernet) enable cameras to join new or existing networks.
By adopting technologies such as Power over Ethernet, remote IP control, and network video streaming, VC-A71PN can be connected using a single network cable. This simplifies the rollout and integration of each unit to reduce the cost, timescale, and management overhead of camera installations. 
Semi-Autonomous Production
Each camera supports up to 256 presets, allowing users to switch angles and zoom positions, and engage tracking movements at the touch of a button. The advanced Auto Focus, Auto Exposure, and Auto White Balance algorithms automatically deliver consistent images while zooming and panning, or under changing lighting conditions. Together, these advanced functions allow a single operator to manage multiple cameras and to produce multi-camera productions without the need for a large crew.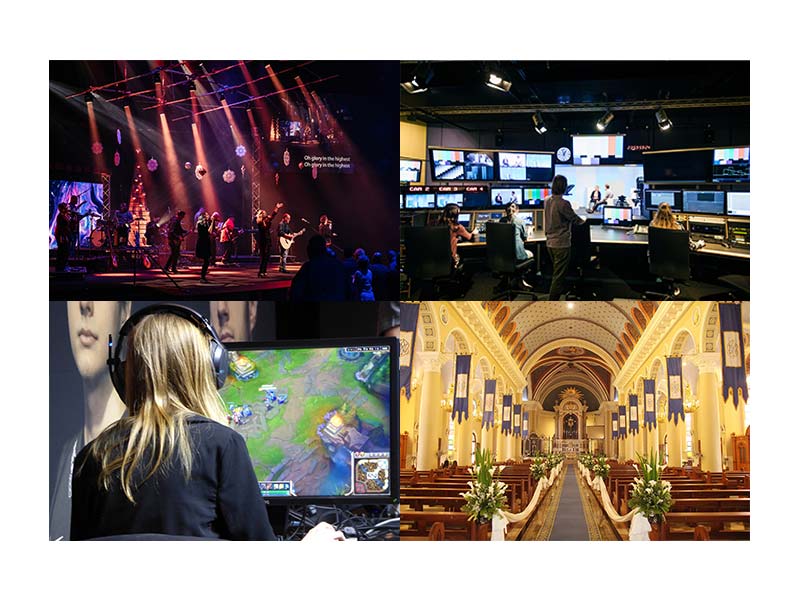 •    Video Studios: its NDI output and tally lights make VC-A71PN an ideal 4K studio or lecture capture camera.

•    Live Events and Sports: the plug-and-play nature of NDI makes the VC-A71PN camera ideal for hire, touring and festivals where speed of setup is key, and ease of control and power are essential.

•    Next Generation AV Installation: very easy to install on NDI networks, VC-A71PN can integrate into corporate, house of worship and education installations to deliver higher quality results.
2160p: 59.94 / 50 / 29.97 / 25
1080p: 59.94 / 50 / 29.97 / 25
1080i: 59. 94 / 50
720p: 59.94 / 50
63° (H) 35.4° (V) 72.3° (D)
0.05 lux (F1.6, 50IRE, 30fps)
RS-232 / RS-422 / Ethernet  / Remote
VISCA  / VISCAIP / PELCO D / NDI / ONVIF
NDI :
HEVC 4K59.94fps
H.264 640×360 29.97fps
or RTSP :
HEVC 4K 59.94fps 
H.264 1080p 59.94fps 
H.264 640×360 29.97fps
NDI|HX / RTSP / RTMP / RTMPS / MPEG-TS / SRT
9.1" x 7.4" x 7.4"
(232 x 188 x 189 mm)